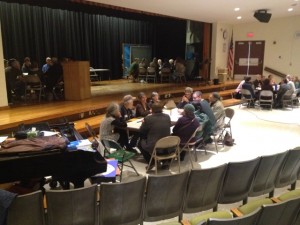 We had our big event on October 13th: a splendidly beautiful fall day, on which the town was already bustling with activities (a good sign for an alive community).
But we set out not only to celebrate our community, high in variety, but also to envision what kind of future we want for it, for ourselves. What we would like to do to accommodate our quickly changing circumstances especially considering the three big "E"-s: the Economy, Environment and Energy use. And, not only to envision, but to take action also, to do something so we help the necessary transition, while we still enjoy life. And, sincerely, my life is much more enjoyable while taking action towards some future goal, easily achievable or not, and hopefully truly enjoying the present involved in that action, rather than seeing all the problems immersing us, and not be able to tackle them in any way.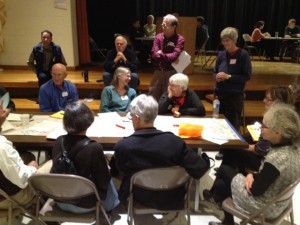 So after reviewing some of Amherst's past, and present, we sat down in groups to envision a positive future, and more importantly the little bits we want to, are willing to, intending to do about it so a positive future comes to fruition.
We came up with working groups, working toward a mission, that, small or large, will help a positive future, or one aspect of a positive future to emerge. How to make our transportation multi-faceted? How to extend food production? How to connect neighbors with other neighbors, with town employees, with projects they really feel passionate about. How to share our skills, how to connect abilities with human needs. How to live a good life with less energy use, smaller carbon-footprint, more interconnected.
---
Some of your neighbors here in Amherst are putting together an afternoon event in October and we hope you'll join us. We invite you to come experience the global Transition movement right here in our local community. At this event we will combine our creativity, ideas and caring about the quality of life in our community now and in the future. And we will take steps toward creating a more sustainable, vibrant and resilient Amherst.



All Things Community:
Celebrating Amherst in Transition
Saturday, October 13, 2012, 12:30 p.m. – 5:30 p.m.
Amherst Regional Middle School
170 Chestnut St., Amherst MA
Schedule:
12:30 Registration
1:00 Opening
1:10 Amherst Past and Present
1:30 "Re-imagining Our Future––Transitioning to Community Resilience"
1:50 Reflection/discussion
2:00 Participatory Thinking: "The World Café."
3:00 Break & Musical interlude
3:10 Introduction to "The Open-Space Marketplace" to build working groups
3:40 Open-Space Session 1
4:20 Break
4:30 Open-Space Session 2
5:10 Reports, Next Steps and Closing
5:30 Adjourn
Whether you're concerned about the future or aspire to greater community connection let's come together with neighbors to build a more vibrant and resilient Amherst