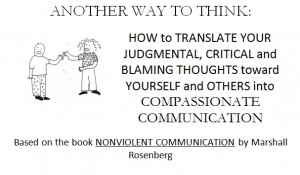 ANOTHER WAY TO THINK: how to translate your judgmental, critical and blaming thoughts toward yourself and others into compassionate communication. Before you speak, you think. This four-week workshop will help you formulate empathetic ways of thinking that can profoundly affect what you say.
The workshop will take place Monday nights, 6 – 8, in the Garrabrandts Room of the Bangs Center in Amherst, January 5 – January 26. There is no fee, but participants are asked to purchase a workbook ($26.00, $$8.00 ebook); some copies will be available on loan.
This workshop will be led by Robert and Sharon Raymond of Shutesbury, long-time practitioners of NVC For more information or to register, please contact sharon@simpleshoemaking.com.
the workshop is for anyone in any relationship – especially one with yourself!
Workshop flyer:NVC alternative way to think
Not only last Saturday's workshop succeeded very well, to an audience of 16, opening the Amherst Winter Farmers Market's weekly workshop series this winter with elegance, but Nick and Betsy, long-time supporters and active participants, of Transition Amherst, even wrote a blog post about it on their "Adventures in the good life" blog!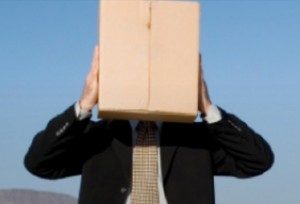 Come to a discussion about how to create emotional resilience in our lives.
How do we "keep going" when everything looks so bleak? Lets talk! How to prepare ourselves for changing times and deal emotionally with emerging economic and environmental issues. How to use the gained stability to enrich our lives through physical action too. FREE!
WHEN: Sunday, January 11, 2015 at 2:00pm – 4:00pm
Where: All Things Local Cooperative Market
104 N Pleasant St, Amherst, Massachusetts 01002
See more: Grow Food Amherst Announcement
The 2014-2015 season is shaping up in the middle school. Every Saturday when the market is on, at noon there is a one hour workshop held in the back room (labeled). Here is the series in its entirety
Dec 20 Gabor Lukacs: Resilence in and around your home
Dec 27 David Lovlar: Practical Backyard Composting
Jan 3 Will Miller (Cricket Creek): Grassfed Dairy Cheese Production
Jan 10 Henry Lappen: The Incredible Complexity of Trees
Jan 24 Dan Conlon (Warm Colors Apiary): Honeybees on the Farm/Pollination in the Pioneer Valley
Jan 31 Sarah Berquist (UMass): School Gardening and Community Education
Feb 7 Jeremy Barker-Plotkin (Simple Gifts Farm): Winter Vegetable Gardening
Feb 14 Tunzala Eynula (Dilaura Naturals): Natural Skin Care (working title)
Feb 21 Becky Reed, Family Nurse Practitioner: Food Is Your Best Medicine
Feb 28 David Ahlfeld: Your Carbon Footprint
March 7 Willie Crosby (Fungi Ally): Cultivating Mushrooms in the Home Garden
March 14 Claire Chang (The Solar Store): Replace Fossil Fuels One House at a Time
March 21 Ryan Voiland (Red Fire Farm): Growing Tomatoes
March 28 Isabel Masteika: Herbs for Everyday Use
See more at amherstwintermarket.com/!
Date: December 20 Saturday at 12 noon
Come to the winter Farmers Market in Amherst (Middle School), to see a slideshow that will teach and brainstorm about how to get food, heat, energy and water needs met without relying on external resources. (Meet in the Professional Development Room)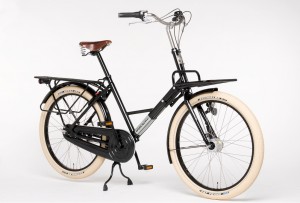 It's a rainy spring here! During wet times, cold or warm, more things can go wrong with a bicycle, if not properly maintained.
Come to this workshop, where we look over all things that can go wrong, and build some understanding about what to do when something happens, but, even more importantly, what to do to avoid the problem even before it happens.
Time and location:
As usual we will meet at the Neighborhood Bicycle Resource Center, so come to 44 Beston street on June 14 Saturday, 4 to 6 pm.
See related past workshops: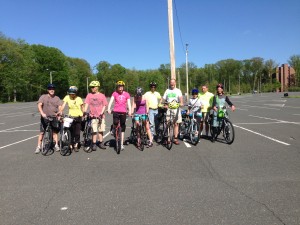 The three-part CyclingSavvy course that Transition Amherst sponsored during Bike week was well attended as you can see it from the crowd on the right. Friday evening we got our classroom part amidst delicious finger food from one of the trainers' Mom (yes, special thanks to her, Eli!).
And in a beautifully sunny Saturday (I even got a bit sunburned) we had both the bike-handling and in-traffic part of the course. Since then I don't always take the lane like many of the pictures below show a bicyclist can, but I sure have the option in my mind and do it easier when I need to.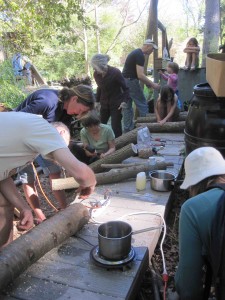 The picture to the right shows the crowd that gathered last May to inoculate logs. We had fun and some of us may already have had mushrooms. We will again be inoculating fresh oak logs with spores of Shiitake and other mushrooms. The trees are felled already and are cut to length.
Time: April 13, Sunday, 3 pm to 5 pm
(with rain- and second date exactly a week later)
Location: 44 Beston street (Gabor's house)
The process:
Cutting log to manageable lengths and clean it from branches (done),
Drilling holes into logs,
Applying spores via inoculated plugs into the logs by hammering the plugs into the holes,
Protecting the filled holes by waxing the surface,
Placing the logs to a moist location without direct sunlight.
The logs, treated this way, will produce the first batch of mushrooms in roughly a year to 18 months, and for several times a year for several years thereafter.
Please let Gabor know you are planning on coming: we will be using power drills and other tools, so our numbers are important for the logistics of the organization.
The workshop is free of charge. Logs for you can be arranged at cost.
See more about our previous experience here!

Transition Amherst invites you to a three part experiential bicycling course to teach us all bicycling in traffic effectively.
CyclingSavvy Pioneer Valley is excited to offer the 3-part course in Amherst for Bay State Bike Week 2014 beginning Friday, 05/16, 6:00PM-9:00PM and continuing Saturday, 05/17, 9:00AM-4:30PM with lunch break.
Tuition is $75. To register, go to http://register.cyclingsavvy.org/howtoregister. For more information, go to http://cyclingsavvy.org or contact CyclingSavvy Instructor Eli Damon at 413-530-3861 or email cyclingsavvy-pioneer-valley@eli-damon.info.
To register, go to
https://register.cyclingsavvy.org/howtoregister
Details of the three parts:
1) Truth & Techniques of Traffic Cycling
Fri May 16, 2014 @ 6:00 pm
This fast-paced 3 hour classroom session features guided discussion, video and animation. This session familiarizes students with bicycle-specific laws, traffic dynamics and problem-solving strategies. Students discover that bicycle drivers are equal road users, with the right and ability to control their space.
This session is available á la carte. You may take it as a stand-alone class.
2) Train Your Bike
Sat May 17, 2014 @ 9:00 am
This 3 hour session is conducted in a parking lot. It consists of a set of progressive drills designed to increase students' control and comfort handling their bikes in various situations.
Most bicycling crashes do not involve motor vehicles. They are with fixed objects, pavement hazards, pedestrians, animals or other cyclists, and could be avoided with better bike-handling skills.
This session is available á la carte. You may take it as a stand-alone class.
3) Tour of Amherst
Sat May 17, 2014 @ 12:00 pm
This session is a 3.5 hour experiential tour of our city's roads. The course includes some of the most challenging road features (intersections, interchanges, merges, etc.) a cyclist might find in his/her travels. The students travel as a group, stopping to survey and discuss each exercise location. After observing the feature, discussing the traffic dynamics and the best strategy for safe and easy passage, the students ride through individually and regroup at a nearby location.
This session is only available with the full course. Bike-handling exceptions can be made for trike drivers.
This session is designed to give you the confidence and problem-solving skills to handle any situation you might encounter.
CyclingSavvy Pioneer Valley is the local branch of CyclingSavvy (http://cyclingsavvy.org),
a wildly successful nation-wide cycling training program.