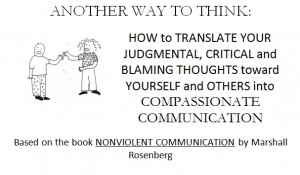 ANOTHER WAY TO THINK: how to translate your judgmental, critical and blaming thoughts toward yourself and others into compassionate communication. Before you speak, you think. This four-week workshop will help you formulate empathetic ways of thinking that can profoundly affect what you say.
The workshop will take place Monday nights, 6 – 8, in the Garrabrandts Room of the Bangs Center in Amherst, January 5 – January 26. There is no fee, but participants are asked to purchase a workbook ($26.00, $$8.00 ebook); some copies will be available on loan.
This workshop will be led by Robert and Sharon Raymond of Shutesbury, long-time practitioners of NVC For more information or to register, please contact sharon@simpleshoemaking.com.
the workshop is for anyone in any relationship – especially one with yourself!
Workshop flyer:NVC alternative way to think