A market that would provide space for all local growers, producers and craftspeople to sell items throughout the year is in its formative stage.
The idea of what is known as an "All Things Local" store is coming from a working group made up of members of Transition Amherst, an entity aimed at responding to climate change, rising energy prices and economic instability.
John Gerber, a professor at Stockbridge School of Agriculture and a member of the group, said two informational meetings at Town Hall have brought out more than 75 people, including small-scale farmers and those making products with local ingredients, who are interested in the idea.
"The hope is we get a lot of enthusiasm and build community partnerships," Gerber said. "Without that, it won't work."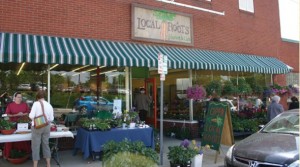 Organizers are hoping to follow a producer-consumer cooperative market model used by Local Roots in Wooster, Ohio, a store that has 800 members and 170 producers. The store would be similar to the weekly winters farms markets, which become social occasions where people can have a cup of coffee, pick up a supply of produce and listen to music, Gerber said.
In the meantime, an enterprise that has served a similar function, the Meadow Street Market, will come to an end Saturday after two years.
Joseph and Sarah Swartz, who have run this local food hub from the Big Blue Barn at their 11 Meadow St. farm, have announced plans to close, in part because of the time it takes to operate their farms, the Swartz Family Farm in North Amherst and Sky Farms in both Bronx, N.Y. and Brockton.
The two introductory meetings for All Things Local, held this week and last, can be seen as a "first date" to gauge interest, Gerber said.
"In order to provide enough customer base, there needs to be a commitment for enough vendors to make it worthwhile," he said.
Organizers would like the store to be located in downtown Amherst. Gerber said committed volunteers will be needed; the Wooster store has just one full-time employee and one part-time worker despite being open six days a week.
The next steps will include forming subcommittees that can begin identifying potential space, talking to real estate agents, and then outlining the range of products that could be offered, from produce and meats to what Gerber calls the "silks and sweaters."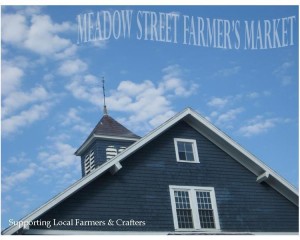 The Swartzes say it is a good time to close their Meadow Street Market because of the support they are seeing for the All Things Local concept.
In a memo announcing their decision, the Swartzes wrote, "This new model offers the buying public the much-needed seven-day access to local food, as well as a cafe, education and a community space. At the same time it allows farmers the opportunity to have a supportive place to sell their goods while still being able to concentrate their efforts on full-time farming."
The North Amherst farmers market began in the parking lot at Watroba's in spring 2010 and moved to year-round at the Swartz farm last year, with about 14 vendors participating regularly.
The Swartzes' announcement came after previous expansion plans were publicized, with Tuesday and Friday afternoons being added and an option for a Community Sustaining Agriculture pickup.
Gerber said he was sad to learn of the closing because the Swartzes didn't require vendor participation every week, had children's activities such as face painting, and chair massage and music for adults.
"Unlike the downtown market on Saturday morning, the Meadow Street Market was a place that encouraged small and start-up growers and crafters who might not have enough product to be there every week," Gerber said.
The last market on Saturday runs from 9 a.m. to 2 p.m. and will feature a book signing by Claire Hopley.
Gerber said some of the vendors who have participated at Meadow Street are now part of the Wednesday Market at Kendrick Park and also may see the All Things Local store as an outlet for their products year-round.
Daily Hampshire Gazette © 2011 All rights reserved
---
—————————————————–
———————————————————-