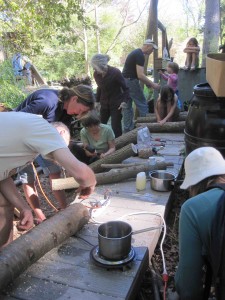 The picture to the right shows the crowd that gathered last May to inoculate logs. We had fun and some of us may already have had mushrooms. We will again be inoculating fresh oak logs with spores of Shiitake and other mushrooms. The trees are felled already and are cut to length.
Time: April 13, Sunday, 3 pm to 5 pm
(with rain- and second date exactly a week later)
Location: 44 Beston street (Gabor's house)
The process:
Cutting log to manageable lengths and clean it from branches (done),
Drilling holes into logs,
Applying spores via inoculated plugs into the logs by hammering the plugs into the holes,
Protecting the filled holes by waxing the surface,
Placing the logs to a moist location without direct sunlight.
The logs, treated this way, will produce the first batch of mushrooms in roughly a year to 18 months, and for several times a year for several years thereafter.
Please let Gabor know you are planning on coming: we will be using power drills and other tools, so our numbers are important for the logistics of the organization.
The workshop is free of charge. Logs for you can be arranged at cost.
See more about our previous experience here!