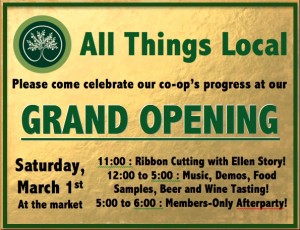 This has been a long project in the making. Years ago we had a name and a model, but not much else. What we really needed then was a location.
It seems to me that since the location came into view things sped up. Having it downtown, and, what more, right next to another Co-op, is greatly helpful. Today it may not have a full selection of food items, or full shelfs for that matter, but it surely has a delightful atmosphere.
To acknowledge this new value our community has, and the tremendous amount of work the board, staff and volunteers contribute, after a few months of functioning, an event is coming up as you see from the image.
Grand Opening Schedule:
11:00 am : Ribbon-Cutting with House Rep. Ellen Story
12:00 – 5:00 pm : Music, demos, food samples, beer and wine tasting!
5:00 to 6:00 pm : Members-only Afterparty
All this at the Store's location, 104 N Pleasant Street in downtown Amherst.
See more at the store's new website, allthingslocal.coop.