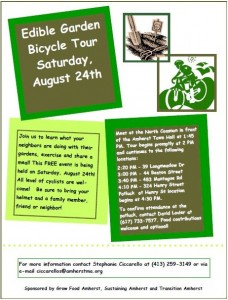 Transition Amherst is co sponsoring an event with Grow Food Amherst and Sustaining Amherst; a tour of some of Amherst's edible gardens on bicycles.
The tour will take place on Saturday, August 24th – we will leave the north side of Amherst Common at 2 pm sharp, so arrive sooner, like at 1:45 PM. All are encouraged to join along the entire tour, but individuals may select tours at specific locations. No need to register for this event, but don't be late!
Garden stops are scheduled at the following times/locations:
2:20 PM – 39 Longmeadow Dr (Nancy Karella)
3:00 PM – 44 Beston Street (Gabor Lukacs)
3:40 PM – 483 Montague Rd (Becky Reed)
4:10 PM – 324 Henry Street (David Lovler)
4:30 PM – Potluck at Henry St location
There will be a potluck immediately following the tour beginning at 4:30 PM at the Henry Street location. Contributions to the meal are welcome, but not required. Please contact David Lovler at (617) 733-7577 or via e-mail: howitallvegan@yahoo.com to confirm attendance at the potluck.
See more in a Gazette article as well as on the town's website
Also, in another event, please join Peg Thibbitts on Thursday, August 22nd in the Large Community Room at the Bangs Center from 6 PM – 8 PM for the second in our summer series of jam making workshops. Enjoy the tastes of summer all season long by learning how to make your own homemade jam. All participants will leave with a jar of jam. Pre-registration is required as participation is limited to twenty individuals. Please contact Stephanie Ciccarello at (413) 259-3149 or via e-mail at ciccarellos@amherstma.gov to register.