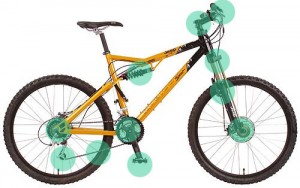 As more and more people realize the damage using a car does to our environment and to our wallets bicycling gets a better press in spite of all the discomfort we associate with it. And wait until you actually get on one: the freedom is hard to describe to someone who commutes by car.
That's why we will talk about bicycle maintenance again Saturday, July 27, from 5 to 7 pm (I pushed it later toward the evening so it is not so hot…) at Gabor's Neighborhood Bicycle Resource Center, 44 Beston street in the framework of another Transition Amherst Reskilling workshop. As usual the workshop is free, bring yourself and your questions. If you bring your bike we will oil it too.
References:
Special Note:
This time please let me know if you are coming via my email: A local CSA, Many Hands, will bring all their interns, so we already have a sizable group!