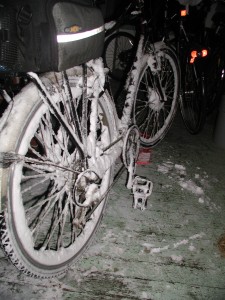 Two expert year-around bicyclists (Dorie and Gabor) invite you to learn all about adverse weather bicycling. Many of these techniques make general practical sense in decent weather also, so you may be interested even if you don't plan to ride during the next snow- or ice-storm.
Details:
Time: November 24, Saturday, 3pm
Location: 44 Beston street, Amherst (in Gabor's "Neighborhood Bicycle Resource Center")
This workshop is a repeat/continuation of the well-attended workshop Transition Amherst had on December 10 last year. A video is available about it on Vimeo, thanks to Jessica Tanner.
What we will address:
* How to dress defensively: avoid overheating and freezing both during and after the ride.
* How to ride defensively: Lighting/visibility, protection against slipping, water and salt
* What to do to make sure you reach your destination: tools, gear, and route choices.
Timeline (all sections include time for questions):
3:00 – 3:20 Check-in
3:20 – 3:45 All about you and your path
3:45 – 4:15 All about your bike and accessories
4:15 and on: Preparations and Reparations: actual demo as needed
See the Video here:
About the presenters:
Dorie has been riding in all weather whenever she can as long as she can remember, both on- and off-road. She believes in simplicity.
Gabor has no car, but has plenty of bike-choices (studded tires, three wheels, balloon tires, electric-assist). He uses bicycles for all his commuting both short and long distance. He specializes in bicycle lighting and carrying cargo with bikes and bicycle trailers.
This workshop is free. If you have questions Gabor can be reached at gaborzol@gmail.com or at 413-253-9755 via phone.