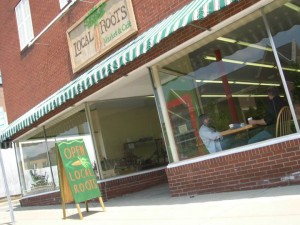 We have received several comments to a Facebook events page announcing the meeting on Tuesday, May 22 at 7:00pm.  Thank you for your thoughts.
Of course we would be delighted if anyone who is interested in learning more about this proposed project would join us to hear about how a local store was developed in Wooster, OH on Tuesday, May 22 at 7:00-9:00pm in Amherst Town Hall.
Here is the original invitation.  And here are public posts community members have shared with us:
—————————————-
I feel people involved with this effort should differentiate themselves from the original intention to create a coop in Amherst by letting people know this effort would be a PRODUCERS cooperative ~ different from the original vision of having a coop in Amherst. Transition Amherst is hoping to create a PRODUCERS coop ~ which is quite different from the original vision of creating a coop in downtown Amherst. Would be of benefit to people wanting to shop in downtown Amherst ~ but very different from an actual food cooperative in the true sense. Thought that should be clarified.  ….Emilie H.
————————————-
It is a shame that the proposed model of a local goods coop is being portrayed as something in opposition to a member owned and governed coop. The newest models I am familiar with have both consumer control and producer equity in their very nature. Certainly the local roots coop being explored as part of this meeting is about both consumer democracy and control as well as a fair yield and democratic principles for the producer. Not having been at previous meetings I am open to hearing what Ms Clarke and others with first hand knowledge of producer/ consumer hybrids have to say. Any idea that any coop can be accomplished responsibly and with member buy in and democratic control in less then a couple years is just not true. Developing a strong and knowledgeable coop community just takes that much time and financial and structural planning to accomplish. ….. John L.
—————————————-
People
I asked my sister Ellen, who lives in Wooster, Ohio, about the "All Things Local" store there, which provides the prototype for a similar store in Amherst, Mass. She writes:
Wow.  Cool!!  I was in on the store from the beginning.  Remember the monthly columns Dad was forwarding?  I wrote those for the Local Roots Newsletter.  And the organic farm Danya [Ellen's daughter] worked for last summer?  The owner of the farm was on the founding board of Local Roots.  And Danya volunteered for them last summer.  You should come and visit the store!  …  They should write to the store through the website — the managers just switched and I don't know the new one.  And if someone comes here they should also talk with Barry Romich — he is my friend who is so active in alternative energy.  You'd love him!  You might also ask Danya to stop and speak with folks on her way home at the end of the month.  Just let me know whatever I can do to help.  Local Roots is an amazing place!
My niece Danya, referred to above, is a student at a college in Maine. She drives through western Massachusetts on her way to and from her home in Wooster, Ohio. I am copying her on this email, in the hope she will be here on May 22 or 29, and might attend one of the meetings on those dates…… Michael P.
————————————————
My grandfather ran the mercantile store in Cape Girardeau, MO, sort of like the Olson's store in the Little House TV show of the 70s. He sold everything from meats, to stationary, to fabric. You could get just about anything. I would support a local store in Amherst that resembled a mercantile, in fact I believe Carol Mizur once ran a store like that in the Carriage Shops. It would have to be diverse in its offerings, at least foods, clothing, crafts, art, and some household goods. The definition of local might have to be liberal too. Best,     …. Jeff L.
———————————————-
I celebrate this TT initiative.
But if I were to go to this meeting, I would have no function or role in terms of articulating its full significance. That is not what this initiative is about. It is about the specifics of setting up this initiative.
In contrast, we see PVRP's (Pioneer Valley Relocalization Project) role as that of explaining the broad significance of relocalization as a radical and rapid transformation of the entirety of a town in terms of how the town is laid out and in terms of how we conduct our lives in terms of transportation in that town layout. We see the necessity of viewing the whole town (including Pelham, Shutesbury, Leverett) as a Greater Amherst (the necessary political governing body), as a region on the earth that can support itself food wise, and that we as a region can support our fire, police, schools, and public works by stopping our wasteful ways of getting around by single passenger car by having a system of bike paths, a Greater Amherst-administered carpool database, and a system of sized buses and vans running often to weatherized bus stops a mile or two apart depending on the population density and with parking for bikes and cars. We as a currently conceived town are throwing our money out the window to Exxon Mobil by driving single passenger cars. We cannot afford it, and the money instead should be going to Greater Amherst, not to Exxon Mobil.
PVRP sees its task as pushing the Town Manager to push the Select Board and to push David Ziomek (who as Dir of Conservation and Planning is precisely the person whose job it should be to move these agricultural land and transportation relocalization meta-projects) to move these agricultural land and transportation relocalization meta-projects. The town planner, Jonathan Tucker, by state law was the town officer whose job it was to develop a master plan, which he did via Niels LaCour, a planner under him. But Amherst is odd in that it should have been the highest planner to have had the responsiblity for overseeing the development of the master plan, namely, David Ziomek, Dir. of Conservation and Planning. So to this day we have a town organizational structure at odds with itself and the tasks required to rapidly move on the two mentioned big meta-projects.
Deciding to make an underground v. above ground parking lot was a HUGE Amherst political football. But even that was just nibbling around the edges, because more and more cars keep coming onto our streets. It just endorsed the car system, which is precisely the corporate oil system that will kill us. The two meta-projects are HUGE politically compared with that parking lot project, so take a lot of preparation and a lot of political support and encouragement of Musante. The fundamental question remains: is the culture of Amherst, as Musante would see it, capable of making this huge change? Is Amherst a moral radical or just a liberal?
Somebody has to be on the beat to keep the heat on John Musante. We see it — and it is — our unique role at PVRP to be doing just this.
This does not leave us with any time to respond to the initiatives of TT, such as attending their film series or this initiative. We did film series work years ago, and we organized the big push on educating both the area's municipal officials and the residents on peak oil back on April 27, 2008 (two years before Tina Clarke came on the TT scene) with organizing Richard Heinberg's talk at both Amherst College and Hampshire College. We've made 400 DVDs of this talk and have distributed them at tablings and more recently to all 240 Town Meeting members and the Amherst officials (again) just before the two Village Center debates at Town Meeting.
For that matter, in our 2007 all day workshop on relocalization in Northampton, upon first meeting Tina Clarke, I believe it is the case that Tina Clarke was not yet on the climate change beat nor the peak oil beat in any direct way; she was in the Clean Water Action organization, whose main beat is clean water, not clean air.
I need to speak with Rob and Steve about how we can formalize our relationship to the upstart TT people. The three of us have had sustainability in our bones going back to the 1990s from our various fields of work. We see the TT as Johnny Come Latelies to this work. It is on that account that I particularly find it perverse to be asked to participate in an initiative under the direcction of a TT person. This is putting things upside down.
Larry  (reprinted with permission of the author)
_____________________________
Hi Folks,
Tina (hi Tina!) may recall that from 1994-1997 Franklin County had such a "local-only" store in Rt. 5/10 in South Deerfield and then on Federal Street in Greenfield, next to the People's Pint called Up-Country Massachusetts. It was a non-profit social enterprise created by 200 local producers of arts, crafts, specialty foods and more, the majority of which also included local raw materials and ingredients. It was organized under the auspices of the Franklin County CDC. (I served as its project manager through to the start-up phase.) It had paid staff, mostly producers, and volunteers, most of the goods were there on consignment, and it was in the process of organizing into a producer-run co-op when the block grant funding some of its budget ran out and the CDC director pulled the plug since there were no funds to carry it further sadly.
Around that time the Visitor's Center at the 91 rotary was opened by the Franklin County Chamber, so most of the producers moved their goods there and it continued in a new form until the Center funds ran dry and it closed (though it recently re-opened I believe). The person who managed the Federal Street location and the Center operation is Cynthia Hebert of Colrain, a producer of goat yarn. I'd encourage ya'll to contact her, and perhaps John Waite at the CDC (it was before his time there, but the files are likely still there), Ann Hamilton at the Chamber, and even me, since there might be documents, materials, lists, processes, ideas and suggestions that could be a local supplement to what you are learning from the Ohio venture (the Appalachian corner of Ohio, such as Athens, seems to have a long history of these sorts of things for some reason; Grassroots Economic Organizing used to write about them. Different culture out there may be one reason.) Good luck with your venture!!!
Tim
p.s. John could also tell you about "The Mercantile" a more recent, but now dormant, effort to create a community-owned department store in Greenfield to counter the popular line of argument that a box store with cheap underwear was needed in town. It was also modeled on such a venture in the midwest — and was to be capitalized by selling shares within the community and operated by local volunteers with some paid staff.
Tim Cohen-Mitchell
CEO & Founder
Young Entrepreneurs Society, Inc.
26 South Main Street, Orange, MA 01364 U.S.A.
(978) 544-1869 | (978) 544-1809 fax
(Shared with permission of the author)

____________________________
Greetings Tina, I am so grateful for your energy going in to the local store concept; I have wanted to start a local shoemaking enterprise – I can supply the training, but other people would make the shoes – even though i have not found an "organic" way to make this happen, I hope that I will find the right people through the local store efforts. And if you encounter anyone who wants to be involved in a local business but haven't decided what the product might be, please give them my contact information! I have a design for "local shoes" just waiting for a cooperative venture! …
Thanks again, and best wishes,
Sharon Raymond  at sharon@simpleshoemaking.com
(Shared with permission of the author)
__________________________________
If you can't join us on Tuesday, please feel free to share your thoughts in the comments box or link below.